With the 3.0.5 VaultWiki product update, we also bring you a few changes to our site. First, here are some of the highlights of 3.0.5.
Release Highlights
Private group pages
are now as private as they can possibly be. They will not appear in wiki article lists of any kind. However, due to the nature of how pages are saved in VaultWiki 3, there are certain variations on thread lists and notifications that simply cannot be captured.
Internet Explorer 6
is not supported in 3.0.5 and future releases. The wiki should remain functional in the browser, but will not be styled correctly, if at all. It simply is not possible for certain features to work properly in other browsers and be styled correctly in Internet Explorer 6, so we decided working properly was more important.
Columns used in the
TABLE BB-Code
can now be sorted by applying the
sortable
class to the table and giving your table a header row using the ! character.
All of the
known VaultWiki bugs
that can be fixed have been fixed. The remaining ones deal with bugs in vBulletin, or can't be fixed without rewriting the core of VaultWiki itself. At this point, our development efforts will be focused heavily on VaultWiki 4. Barring unforeseen circumstances, we intend for 3.0.5 to be the last release in VaultWiki 3's life cycle.
For a list of template and phrase changes, see
this thread
.
For a complete list of issues that 3.0.5 addresses, see
this report
.
Site Changes
The
forum home page
has been modified in a number of ways. Less important information is now de-emphasized with smaller font-sizes and lower-contrast text. Last post times have been changed to use relative timestamps to make it easier to find out which forums really do have new posts.
As we'll start discussing VaultWiki 4 more and more, with articles and blogs highlighting upcoming features and other changes, we thought that perhaps the
articles and blogs
themselves might easily be missed by users who have bookmarked the forum home page. The Blogs link was previously especially hard to find. So we added blocks that show the 3 most recent of each and link back to the main areas, where a user can always find more.
We've also made a small change to the
Members Area
. In the past, fixes to bugs that were considered severe enough were merged with the current download package of VaultWiki. However, users who had already downloaded that release would not know that the code had changed unless they were experiencing the same issue and found the thread that said "ZIP updated".
Now it will be very easy for users to find out if the download was changed, even though the version number has not. Below the Download link are now two lines: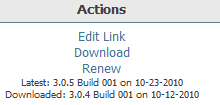 Latest: shows the last version AND build number AND what day the code was last updated
Downloaded: shows the last version and build number the user downloaded, and what day it was