VaultWiki 4.0.0 is now available to all licensed customers. Since RC 5 in November, we saw very few new bug reports and we really took our time with an extended QA period this release cycle, working closely with a number of communities, to make sure that the release was as solid as this implied. Thus, we are confident in this new release and have finally given VaultWiki 4 its Gold status.
Whatever bugs remain in the software should be minor at this point, and VaultWiki 4 should be considered viable for any sites running supported vBulletin or XenForo platforms at this time.
Wiki Feeds
With the gold release, we sneaked in a new wiki content-type, which we are calling Feeds. Users can make personal feeds that they use personally and can share with friends, or they can create global feeds that are intended for wiki readers at large.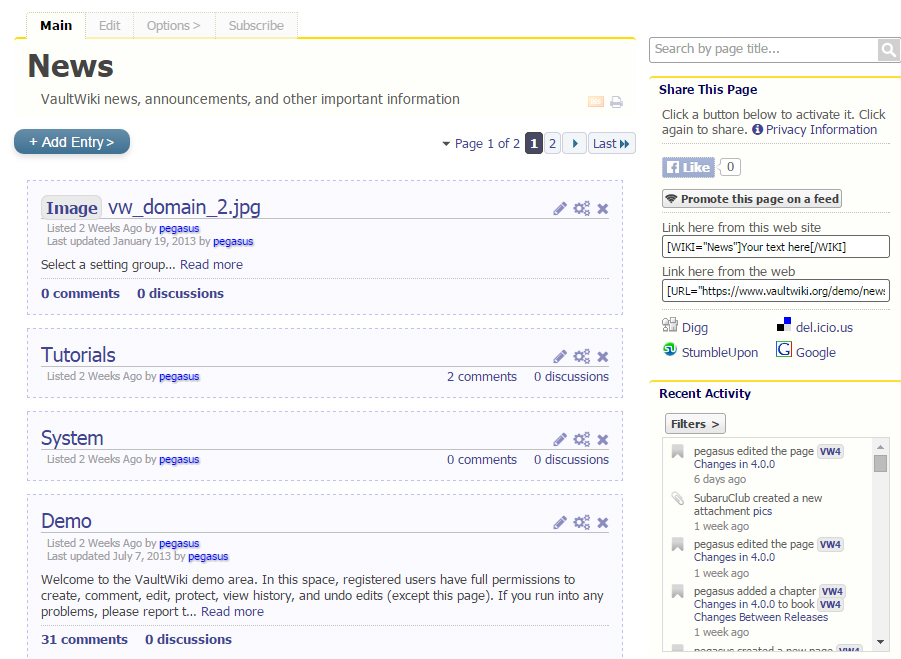 You can think of a feed similar to a traditional article-based CMS or blog: rather than simply clicking wiki links or using directory listings to discover new content, feeds allow users to embed multiple wiki articles on the screen at once in sequence.
We intend to use this particular feature ourselves to become platform-independent of vBulletin CMS (which we currently use for VaultWiki News) and vBulletin Blogs (which we use for staff musings and occasional feature sneak peaks). We will be making this transition, as well as posting some tutorials on how to best use this feature to emulate both products, within the next few weeks.
Release Notes
VaultWiki 4.0.0 should be usable on vBulletin-based and XenForo-based production sites.
We hope you enjoy using it at least as much as we've enjoyed making it.